12/15/21 TRAIL CLOSED
The Rimrocker Trail is now officially closed for the winter. We are getting reports of 8-10 inches of snow by Buckeye Reservoir, and reports of significant snow across most of the Rimrocker Trail. We'll see you in the spring!
10/12/21 SNOW
We have reports that Divide Road along the Rimrocker trail has 2″ – 4″ along the entire length. It appears that there is also snow on the Utah side.
8/16/21 Mudslides affected OHV Trail 
Trail update! Due to mudslides in the last week, the OHV trail that parallels Highway 141 right before you cross it onto R13 has a lot of mud and debris. It is passable, however please use caution. Montrose County crews will be working hard to get everything cleared. #proceedwithcaution #mudslides
6/28/21 Pack Creek Fire Update
The Pack Creek Fire is no longer affecting the Rimrocker Trail. Please see below map and road closure order for reference.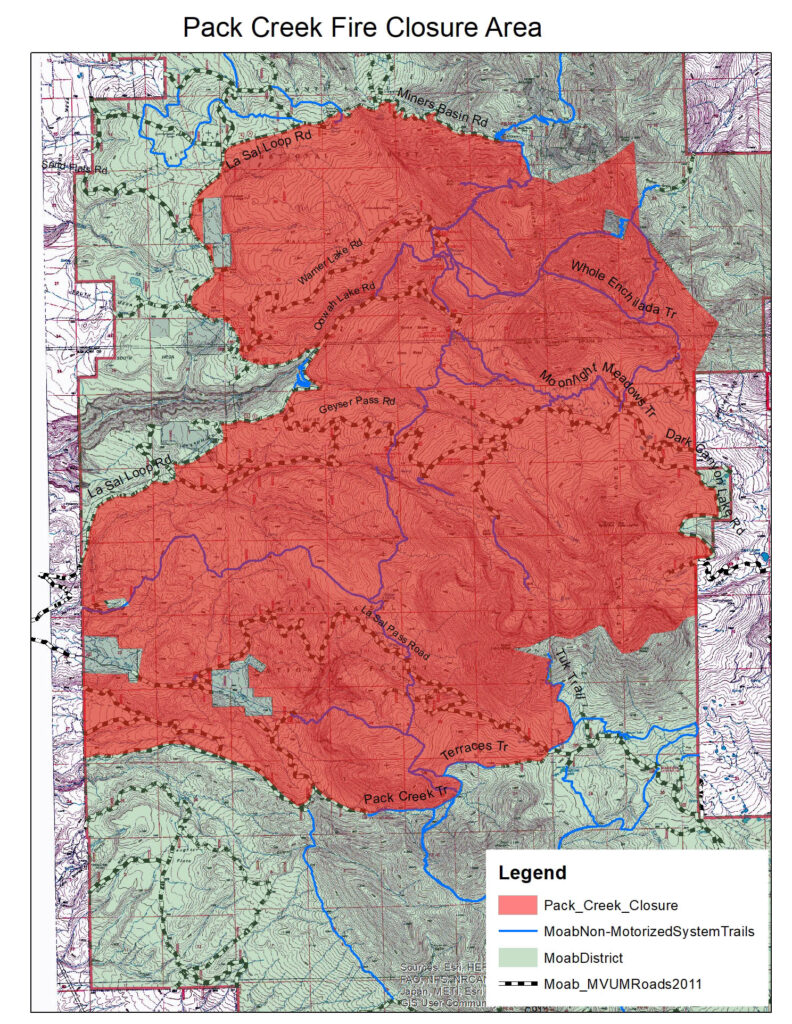 6/15/21 Detour Alert
Please be advised that the #PackCreekFire has impacted the #RimrockerTrail in Utah. A small portion of the trail is not accessible, however a detour is available and shown on the map below. Depending on conditions, expect smoke and wildfire personnel near the area–please drive slowly. The fire is an ongoing and active situation, and the closures may change depending on fire behavior. For fire information, please visit Utah Fire's website or Utah Fire Info facebook.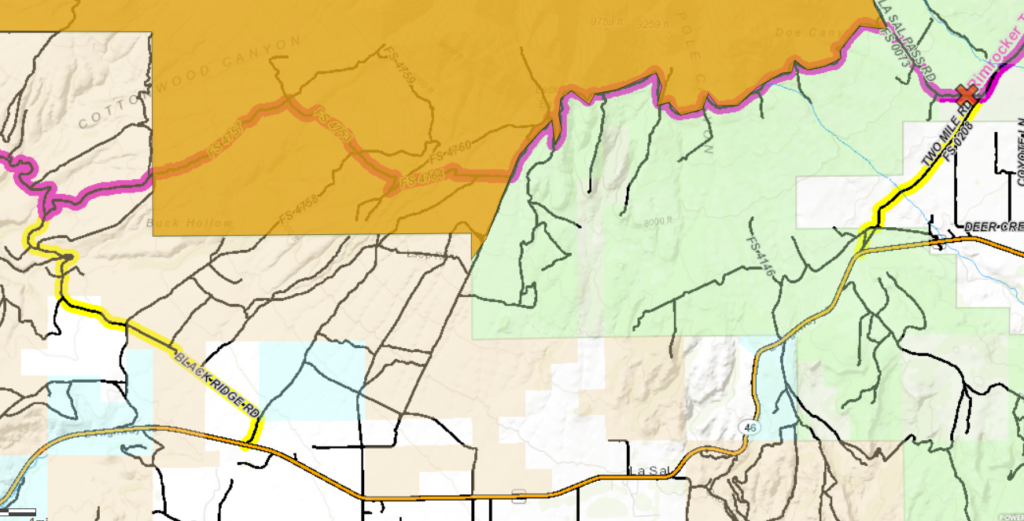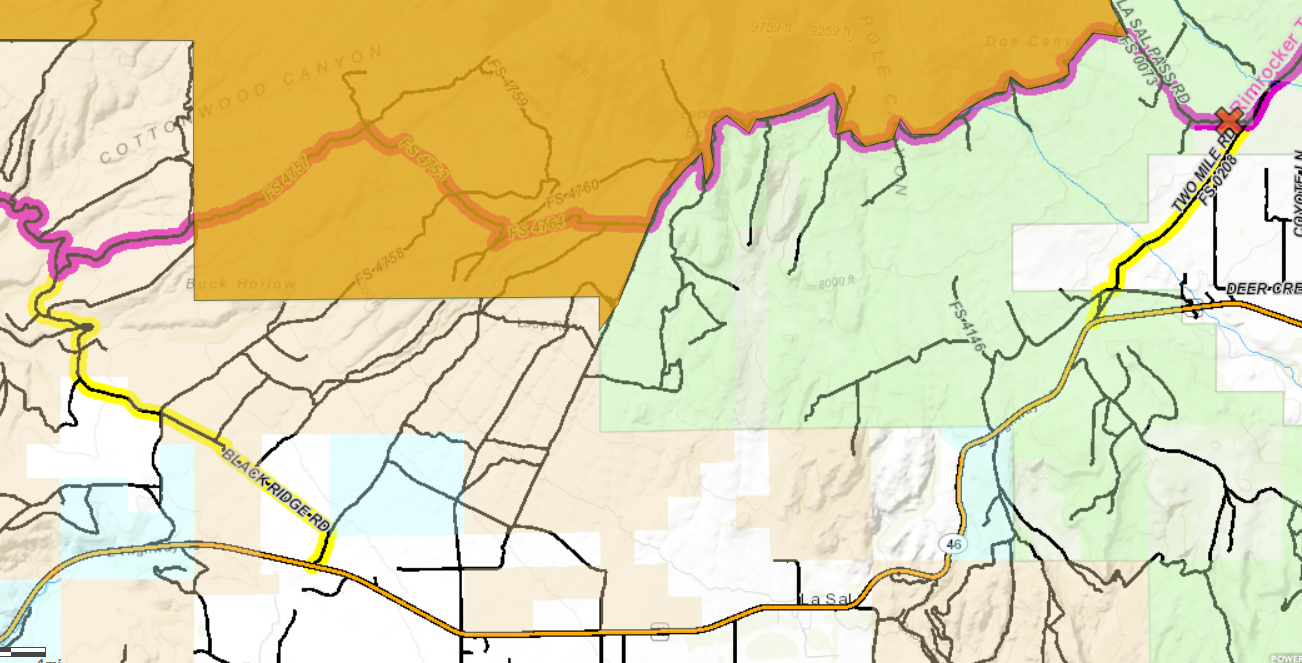 6/11/21 Fire Update
Please note the #PackCreekFire is burning outside of Moab and growing. At this time, road closures do not impact the #RimrockerTrail BUT please know that there is likely to be increased smoke in the area and potentially presence of fire crews. Also, closures may happen quickly depending on fire behavior. Please be aware and give crews the space they need to work. Follow U.S. Forest Service-Manti-La Sal National Forest and Utah Fire Info for updated info on this fire. We will post updates if the trail is impacted by a road closure.
5/12/21 Update
Public Service Announcement:
Prescribed Burning on Norwood Ranger District

Norwood, Colorado, May 11, 2021 —
GMUG Fire and Fuels Crews plan to begin aerial ignition operations on the Glencoe Pine prescribed burn as early as May 12, or as conditions allow.

• Glencoe Pine: Located approximately 13 miles northeast of Nucla, CO off National Forest System Road (NFSR) #503 (Delta/Nucla road). Approximately 450 acres are planned to be burned to increase the resiliency and reproduction of native ponderosa pine stands.

• Be advised—NFSR #503 (Delta/Nulca road) will be closed during ignition from 10 a.m. – 2 p.m. at mile marker 35 on the West side and Columbine Pass on the East.

• Caution is advised as smoke will likely be visible near US Hwy 50, CO Hwy 141 and NFSR #402 (Divide road), NFSR #404 (Uranium road) & NFSR #405 (Niche road).

• Smoke may impact Nucla and Norwood area residents.

• The prescribed burn will be accomplished using joint-agency fire resources, mitigation measures and protocols that are in place to reduce the risk and transmission of COVID-19. Air quality will be closely monitored to mitigate smoke related impacts to communities.

• Prescribed burn project areas will be patrolled and monitored for several days following ignition.

For information and updates on prescribed burns, wildfires and fire restrictions on National Forest System lands and other areas, call the Grand Mesa, Uncompahgre and Gunnison National Forests Fire Information line at 970.874.6602, visit the GMUG Forest website (www.fs.usda.gov/gmug), Facebook: https://www.facebook.com/GMUGFireInfo or Twitter: https://twitter.com/GMUG_NF.

For more information on how prescribed fire smoke may affect your health, please visit: https://www.colorado.gov/pacific/cdphe/wood-smoke-and-health. 
5/10/21 Update
It's official . . . The Rimrocker Trail is now open for adventure! A big thank you to Montrose County Road & Bridge crews for working hard on clearing the high country roads.
It's still early, so be prepared for all types of weather. Have fun and don't forget to send your photos to us at pr@montrosecounty.net for stickers. 
5/4/21 Update
Trail Update! Here's the latest on the
#RimrockerTrail
. The trail IS passable with a few detours. You must take the alternate route of the Delta/Nucla Road, also called 25 Mesa) from Delta to Nucla instead of 90 Road. At this time 90 Road to Divide is impassable due to snow. We are waiting from updated pics from crews that took a bulldozer up there today. The pictures below are from 25 Mesa area to show conditions at a lower elevation. Here are some friendly reminders for early season travel:
If it's raining in the lower elevations, it could be snowing on top of the plateau. Make good choices.
Be prepared. It's Colorado. One minute it could be 70 and sunny and the next minute it's a verifiable blizzard. Again, make good choices.
Pay attention to the high water crossing on U19 near the Ballpark Campground. Last week's report (shout-out to Justin N) indicated water 10 inches and rising–it's spring run-off, this will continue for a while. Use the detour if unsure. Yet again, make good choices.
Need a map? Send your address to pr@montrosecounty.net and we will put one in the mail. If you're a digital wizard, download GPX, KML and Shapefiles at
rimrockertrail.org.
Please be advised that there are portions of the trail that need improved signage. We are working on planning recon missions to fix signs that have been removed or stolen. First, if you want a sticker, send us an email and trip pic at the email above. Second, see above bullet point.
Lastly, if you are heading out on the trail, throw us a bone and send your photos and conditions reports. We are cooped up in offices and unable to hit the trail yet. Good updates will receive sweet new swag!


4/2/21 Update
Current trail conditions on the Colorado side at 90 and Ute and 25 Mesa. Please keep in mind this was as far as crews could safely navigate. As a reminder, the RR is not accessible by anything but snowmobile at higher elevations.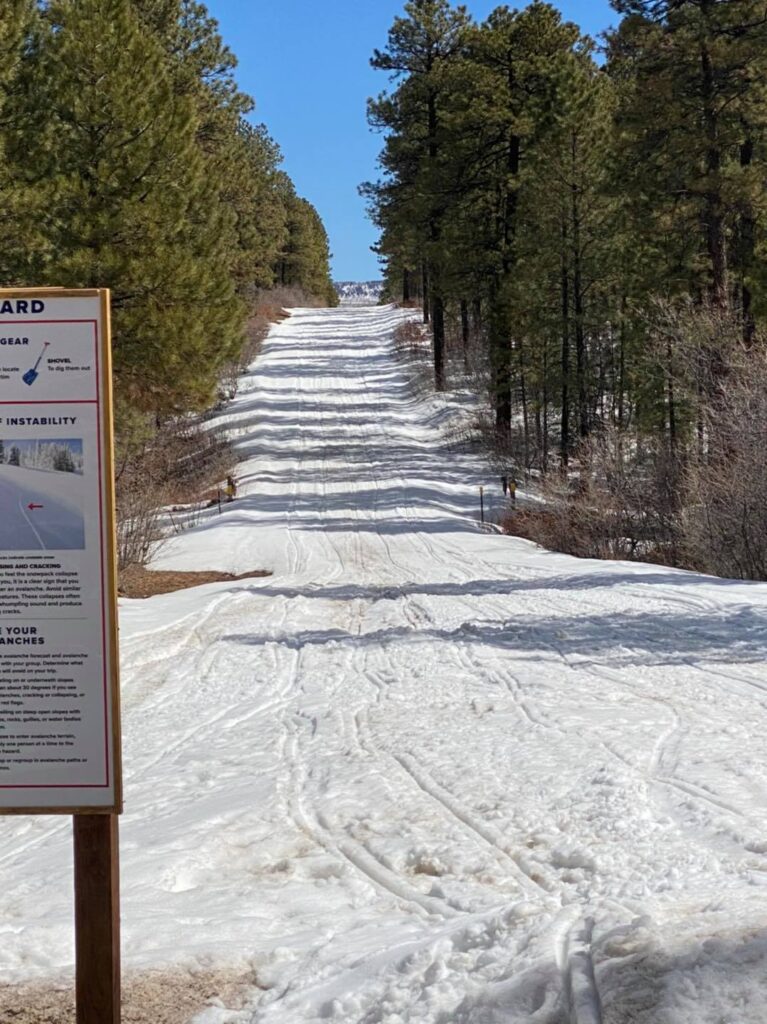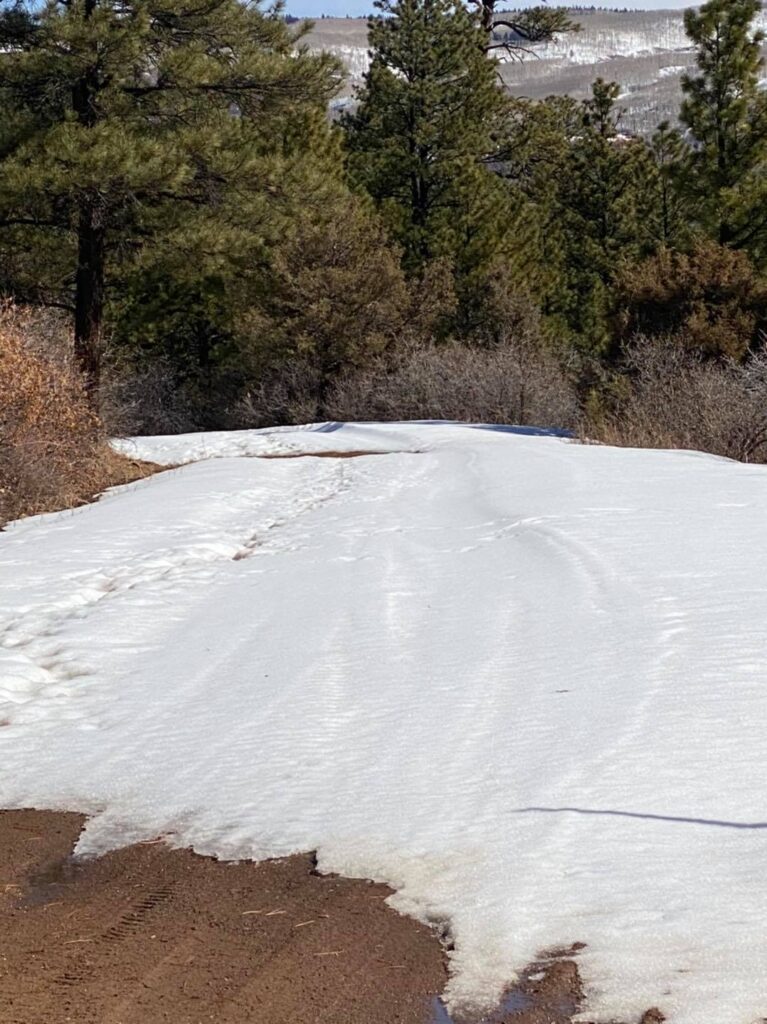 3/25/21 Update
We know you are excited to ride the
#RimrockerTrail
this year! We are looking forward to trail season, but right now the higher elevations are impassable due to snow. Typically, the Colorado side of the trail is open around Memorial Day (depending on snow and conditions) and the Utah side opens shortly after. Check out some of our cool side trails in the West End!
11/12/20 Update
The Rimrocker Trail on the Colorado side is passable, however please expect winter conditions. Our friends from the Manti-La Sal National Forest tell us they have received a substantial amount of snow recently and it is expected to stick around. We will update as we hear more.
10/28/20 Update
Trail Update: We've gotten word that the trail is impassable at some of the higher elevations. We are hoping that the warmer weather headed our way later this week will buy us a little more time on the Rimrocker before it closes for the winter. Stay tuned – we will update as we receive information!
5/12/20 Update
📣

The Rimrocker Trail is OPEN! Please keep these things in mind: 
💦The Tabeguache crossing on U19 near Uravan (pictured) has extremely high water, but there are ways to bypass this water crossing. 
✅Signs have been added and the missing link portion of the highway has been widened.
🗻Expect muddy conditions as we have melting & runoff.
The Rimrocker Trail runs long stretches through remote areas (that's why it's awesome). Large portions of the route are rough, narrow and steep (again, awesome). The route between Nucla and Moab is recommended for 4WD/High Clearance vehicles and OHVs only. When traveling on the Rimrocker, users should plan to be self reliant and recognize that cell phone coverage is very limited.
📍As always, make good choices! Here are some tips for traveling on the Rimrocker Trail:
*Travel with another person or vehicle
*Carry maps and know how to use them
*Bring adequate food and water for your planned trip and emergency purposes
*Scout the route on foot if you are uncertain about your ability to navigate a portion in your vehicle
*Wear a helmet when riding a bike or OHV
*Carry first aid and emergency supplies including extra clothing
*Develop riding and driving skills on easier, more accessible routes
*Let a friend or relative know your itinerary
ENJOY!
1/2020 Update
From Rimrocker Trail enthusiast Yanis Petrovics:
I wanted to pass on a trail report from a few weeks ago. I attempted the trail back in early January. The beginning of the trail from Monticello is mild. Approximately 4 miles in, the snow becomes very deep and going forward requires high clearance, 4wd and chains. Past the sign of National Forest, the trail becomes impassable by truck.
—
6/18/19 Update
Crews Open Roads Over Uncompahgre Plateau
Montrose, COLO. —Montrose County and the U.S. Forest Service Grand Mesa, Uncompahgre and Gunnison (GMUG) National Forests officially opened 90 Road (National Forest System Road #540) and Divide Road (NSFR #402) following significant snow removal operations.  Crews have been working diligently to remove snow–including an additional foot of snow that fell the plateau over the Memorial Day holiday weekend.  Montrose County Road and Bridge crews have also been challenged by increased run-off and road wash-outs from water.  The county estimates that this is the first time in over 30 years that the plateau roads have not been accessible by late May.
"The water and snow have impacted several county roads–especially those in the high country.  The delayed opening just goes to show how significant the snow pack was this year," said Road and Bridge Superintendent Joe Budagher.  "West End Superintendent Bo Andrews and his crew have done a great job securing the historic slide area on 90 Road.  I appreciate the public's patience throughout this entire process."
At this time, all major roads are open across the Uncompahgre Plateau to include 90 Road, Dave Wood Road, Divide Road, Transfer Road, and 25 Mesa Road.  There is still snow at the top of the plateau and several side trails are not accessible.  Please be advised that dispersed camping options are limited at higher elevations.  The roads are drying out, but the public is encouraged to seek alternate routes if there are large amounts of rain.   Travel on muddy roads not only increases the chances of getting a vehicle stuck, but it is also damaging to the road itself.  Finally, the two designated campgrounds on the plateau—Iron Springs and Columbine—are open to the public at this time.  For more information about the GMUG including camping information, please visit https://www.fs.usda.gov/main/gmug. 
6/13/19 Update
All eyes are on the Rimrocker Trail as the mid-June countdown begins. Montrose County Road and Bridge crews have been working diligently to plow snow on the U.S. Forest Service-Grand Mesa, Uncompahgre & Gunnison National Forests Uncompahgre Plateau and hope to have the Colorado side open soon! #KnowBeforeYouGo #NotOpenYet#SideTrails
6/7/19 Update
CLOSURE: Plowing operations continue on 90 Road and Divide Road, and as a result the closures are still in place for the majority of both roads. Please see below for more from our partners at U.S. Forest Service-Grand Mesa, Uncompahgre & Gunnison National Forests.
Please note that we will post all updates promptly on this website as soon as we have additional information.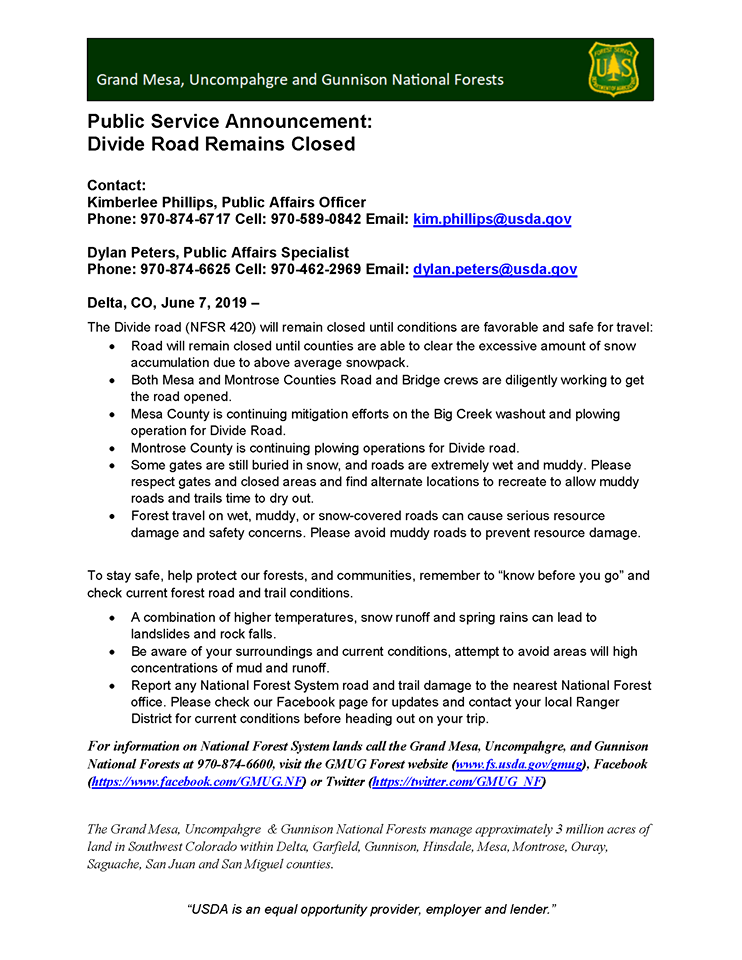 6/5/19 Update
Thanks everyone for doing snow dances this winter; we think the good juju worked. These photos were taken yesterday, 6/4/19 at Pool Creek and Houser Rd on Uncompahgre Plateau. There is still a *LOT* of snow up there. Our Road and Bridge crews are working hard to get things opened up!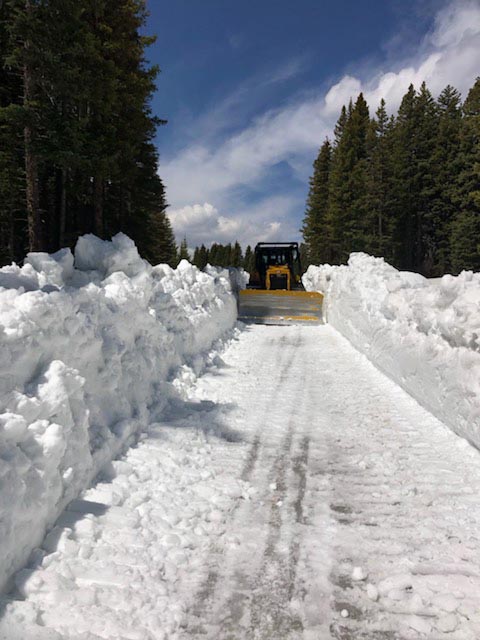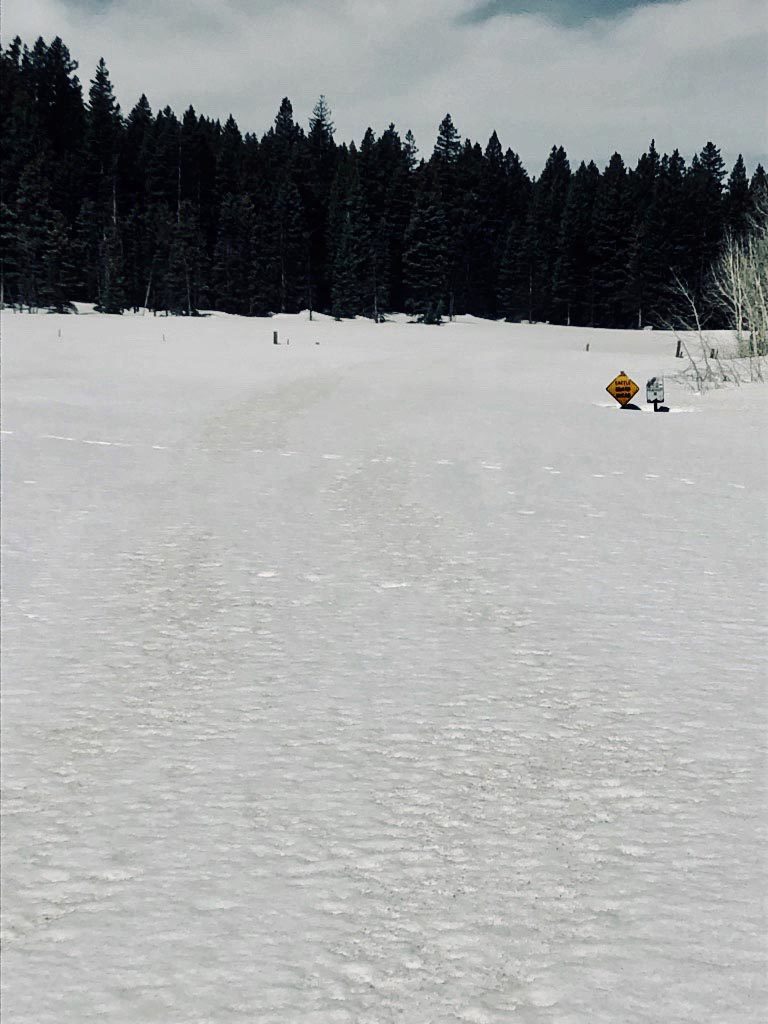 6/4/19 Update
90 Road (National Forest System Road #540) and Divide Road (NSFR #402) remain closed due to snow on the roads. In some places snow depth is still up to 4 feet. 90 Rd is open up to Divide. Beyond the closure, Divide Road is impassable and should not be attempted. 
5/16/19 Update  
Good news 😁: Buckeye Recreation Area is open for camping! 🥳https://www.fs.usda.gov/recarea/mantilasal/recarea/…
Bad news 😞: The Rimrocker Trail is still impassable 👎 in its entirety. Montrose County Road and Bridge crews are working on plowing over the Uncompahgre Plateau (you won't believe the snow–pictures coming soon). The Colorado side is likely to open late May. Utah 🤷‍♂️🤷‍♀️❄️❄️🗻???
Good news 😍 (we need to end on a good note): There are TONS of great trails to ride in the west end of Montrose County. Check out rimrockertrail.org"Side Trails" in the menu for brochures from the Rimrocker Historical Society listing historic tours with directions.
As always #RimrockerTrail friends, we will keep you updated!
5/3/19 Update
Don't be fooled by these gorgeous days! Rimrocker Trail is STILL impassable on the CO side and on the UT side. We anticipate it will a minimum of three or four weeks before #RimrockerTrail is passable.
4/10/19 Update
Craig and Katie Johnson attempted the Rimrocker yesterday from Montrose – Moab and were thwarted by snow. Their jeep has 35s, lockers, and they even aired down to 20psi, but the ice below the snow held them back. 
3/1/19 Trail Update
We've received an epic amount of snow this spring (which we are incredibly grateful for!). It will be quite a while before the trail is open in multiple spots in Colorado and Utah. Check back for updates later this spring! If you're looking for a nice side route, check out Rte 141 through Gateway Canyon – beautiful scenery!