11/12/20 Update
The Rimrocker Trail on the Colorado side is passable, however please expect winter conditions. Our friends from the Manti-La Sal National Forest tell us they have received a substantial amount of snow recently and it is expected to stick around. We will update as we hear more.
10/28/20 Update
Trail Update: We've gotten word that the trail is impassable at some of the higher elevations. We are hoping that the warmer weather headed our way later this week will buy us a little more time on the Rimrocker before it closes for the winter. Stay tuned – we will update as we receive information!
5/12/20 Update
📣

The Rimrocker Trail is OPEN! Please keep these things in mind: 
💦The Tabeguache crossing on U19 near Uravan (pictured) has extremely high water, but there are ways to bypass this water crossing. 
✅Signs have been added and the missing link portion of the highway has been widened.
🗻Expect muddy conditions as we have melting & runoff.
The Rimrocker Trail runs long stretches through remote areas (that's why it's awesome). Large portions of the route are rough, narrow and steep (again, awesome). The route between Nucla and Moab is recommended for 4WD/High Clearance vehicles and OHVs only. When traveling on the Rimrocker, users should plan to be self reliant and recognize that cell phone coverage is very limited.
📍As always, make good choices! Here are some tips for traveling on the Rimrocker Trail:
*Travel with another person or vehicle
*Carry maps and know how to use them
*Bring adequate food and water for your planned trip and emergency purposes
*Scout the route on foot if you are uncertain about your ability to navigate a portion in your vehicle
*Wear a helmet when riding a bike or OHV
*Carry first aid and emergency supplies including extra clothing
*Develop riding and driving skills on easier, more accessible routes
*Let a friend or relative know your itinerary
ENJOY!
1/2020 Update
From Rimrocker Trail enthusiast Yanis Petrovics:
I wanted to pass on a trail report from a few weeks ago. I attempted the trail back in early January. The beginning of the trail from Monticello is mild. Approximately 4 miles in, the snow becomes very deep and going forward requires high clearance, 4wd and chains. Past the sign of National Forest, the trail becomes impassable by truck.
—
6/18/19 Update
Crews Open Roads Over Uncompahgre Plateau
Montrose, COLO. —Montrose County and the U.S. Forest Service Grand Mesa, Uncompahgre and Gunnison (GMUG) National Forests officially opened 90 Road (National Forest System Road #540) and Divide Road (NSFR #402) following significant snow removal operations.  Crews have been working diligently to remove snow–including an additional foot of snow that fell the plateau over the Memorial Day holiday weekend.  Montrose County Road and Bridge crews have also been challenged by increased run-off and road wash-outs from water.  The county estimates that this is the first time in over 30 years that the plateau roads have not been accessible by late May.
"The water and snow have impacted several county roads–especially those in the high country.  The delayed opening just goes to show how significant the snow pack was this year," said Road and Bridge Superintendent Joe Budagher.  "West End Superintendent Bo Andrews and his crew have done a great job securing the historic slide area on 90 Road.  I appreciate the public's patience throughout this entire process."
At this time, all major roads are open across the Uncompahgre Plateau to include 90 Road, Dave Wood Road, Divide Road, Transfer Road, and 25 Mesa Road.  There is still snow at the top of the plateau and several side trails are not accessible.  Please be advised that dispersed camping options are limited at higher elevations.  The roads are drying out, but the public is encouraged to seek alternate routes if there are large amounts of rain.   Travel on muddy roads not only increases the chances of getting a vehicle stuck, but it is also damaging to the road itself.  Finally, the two designated campgrounds on the plateau—Iron Springs and Columbine—are open to the public at this time.  For more information about the GMUG including camping information, please visit https://www.fs.usda.gov/main/gmug. 
6/13/19 Update
All eyes are on the Rimrocker Trail as the mid-June countdown begins. Montrose County Road and Bridge crews have been working diligently to plow snow on the U.S. Forest Service-Grand Mesa, Uncompahgre & Gunnison National Forests Uncompahgre Plateau and hope to have the Colorado side open soon! #KnowBeforeYouGo #NotOpenYet#SideTrails
6/7/19 Update
CLOSURE: Plowing operations continue on 90 Road and Divide Road, and as a result the closures are still in place for the majority of both roads. Please see below for more from our partners at U.S. Forest Service-Grand Mesa, Uncompahgre & Gunnison National Forests.
Please note that we will post all updates promptly on this website as soon as we have additional information.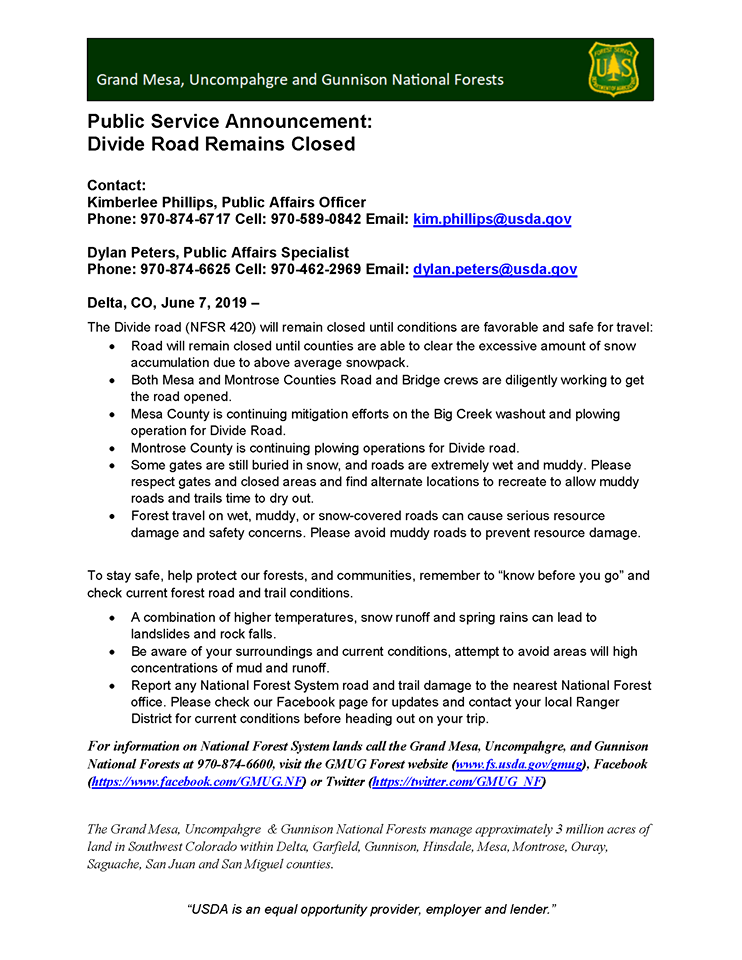 6/5/19 Update
Thanks everyone for doing snow dances this winter; we think the good juju worked. These photos were taken yesterday, 6/4/19 at Pool Creek and Houser Rd on Uncompahgre Plateau. There is still a *LOT* of snow up there. Our Road and Bridge crews are working hard to get things opened up!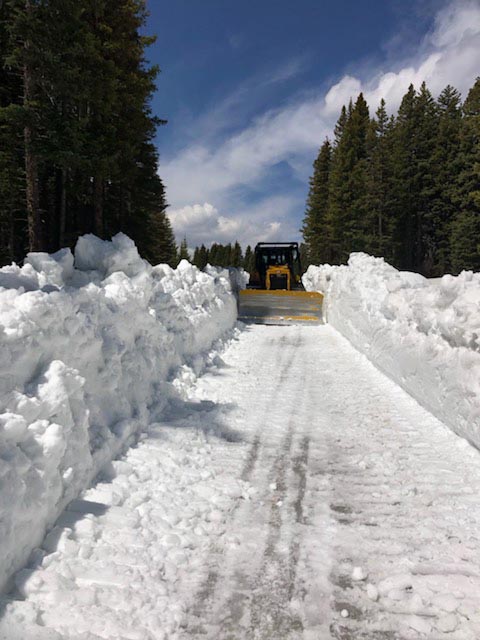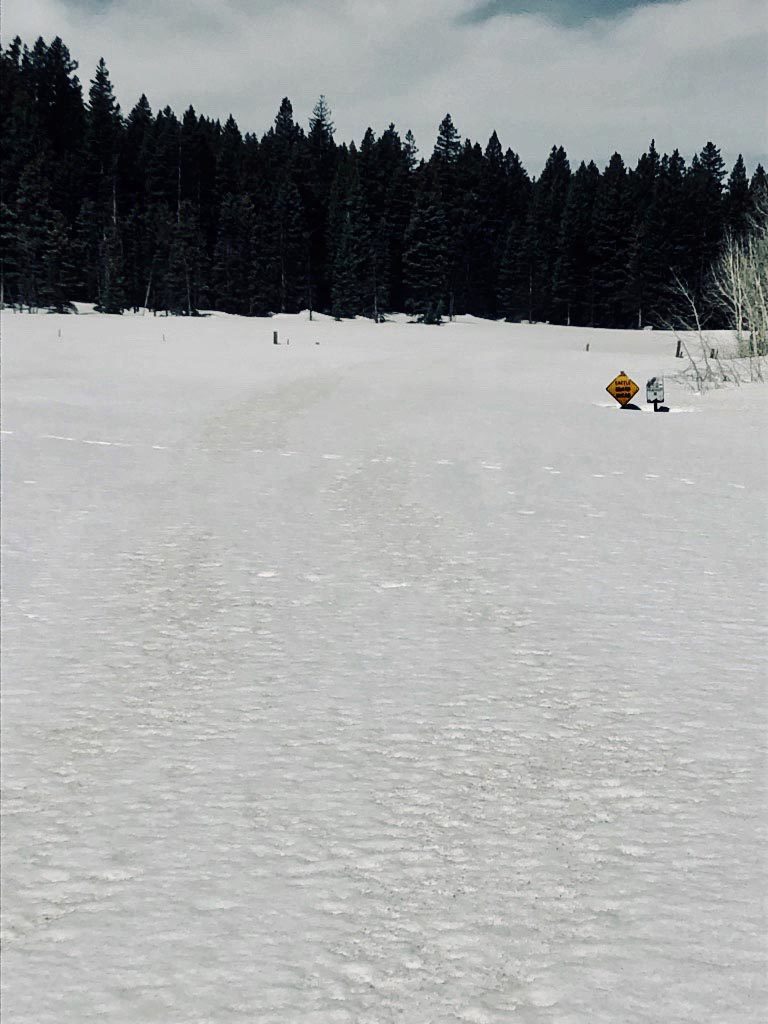 6/4/19 Update
90 Road (National Forest System Road #540) and Divide Road (NSFR #402) remain closed due to snow on the roads. In some places snow depth is still up to 4 feet. 90 Rd is open up to Divide. Beyond the closure, Divide Road is impassable and should not be attempted. 
5/16/19 Update  
Good news 😁: Buckeye Recreation Area is open for camping! 🥳https://www.fs.usda.gov/recarea/mantilasal/recarea/…
Bad news 😞: The Rimrocker Trail is still impassable 👎 in its entirety. Montrose County Road and Bridge crews are working on plowing over the Uncompahgre Plateau (you won't believe the snow–pictures coming soon). The Colorado side is likely to open late May. Utah 🤷‍♂️🤷‍♀️❄️❄️🗻???
Good news 😍 (we need to end on a good note): There are TONS of great trails to ride in the west end of Montrose County. Check out rimrockertrail.org"Side Trails" in the menu for brochures from the Rimrocker Historical Society listing historic tours with directions.
As always #RimrockerTrail friends, we will keep you updated!
5/3/19 Update
Don't be fooled by these gorgeous days! Rimrocker Trail is STILL impassable on the CO side and on the UT side. We anticipate it will a minimum of three or four weeks before #RimrockerTrail is passable.
4/10/19 Update
Craig and Katie Johnson attempted the Rimrocker yesterday from Montrose – Moab and were thwarted by snow. Their jeep has 35s, lockers, and they even aired down to 20psi, but the ice below the snow held them back. 
3/1/19 Trail Update
We've received an epic amount of snow this spring (which we are incredibly grateful for!). It will be quite a while before the trail is open in multiple spots in Colorado and Utah. Check back for updates later this spring! If you're looking for a nice side route, check out Rte 141 through Gateway Canyon – beautiful scenery!